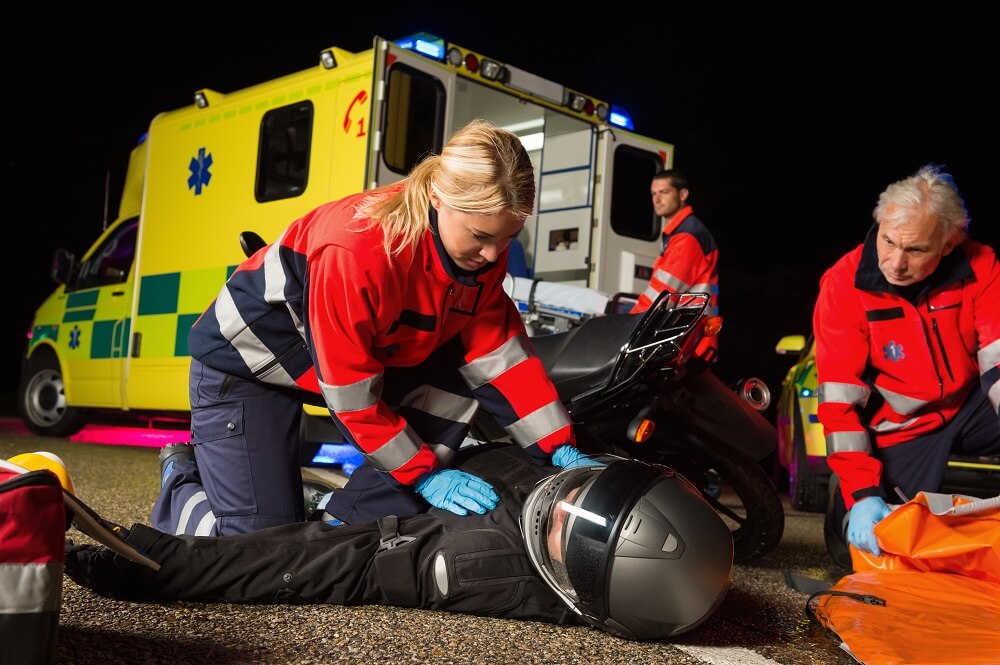 If you are involved in a motorcycle accident in Indiana, the odds are that you may have significant injuries as a result. According to the Public Policy Institute at the University of Indiana, more than 70% of motorcyclists involved in a collision in 2019 were either injured or killed. Motorcyclists often sustain serious crash injuries because motorcycles lack the safety features that are standard on passenger vehicles. After an accident, an injured rider may experience financial stress due to medical bills and the loss of income.
You may seek compensation for your injuries on your own but doing so can be challenging and stressful if you are coping with severe injuries and the demands that come with recovering from an accident. You will be at a disadvantage in negotiating with an insurance company if you don't have an experienced motorcycle accident lawyer handling injury claims. The at-fault driver's insurance company will have lawyers to protect their interests. You'll have a better chance of receiving full compensation if an experienced Indiana motorcycle accident lawyer is representing your interests.
Why You Should Seek Legal Help After a Motorcycle Accident
There are numerous reasons why it's important to retain an experienced personal injury lawyer if you've been injured in a motorcycle accident by another motorist.
Some of the primary reasons are that:
It's hard to pursue a personal injury claim when you've been injured. You may be in the hospital for days or weeks after a motorcycle crash, depending on the extent of your injuries. You may be undergoing physical therapy and rehabilitation for months. You shouldn't have to spend this difficult time negotiating with uncooperative  insurance companies or trying to track down evidence to support your claim. An experienced attorney can start working on your injury claim immediately while you focus on your recovery.
Personal injury claims can be complicated. There may be multiple drivers or other parties who may be liable for your injuries. If so, you may need to file multiple claims to seek full compensation for your losses. You'll need solid evidence to support your claim, or you won't be able to prove that the responsible party was legally liable for your injuries. If you can't reach a reasonable settlement, you may need to go to court to seek compensation. A motorcycle accident lawyer has the resources and training to negotiate a reasonable settlement and represent you in court if necessary.
You're likely to recover more compensation by hiring a lawyer. To recover full compensation for your injuries, you'll need to document all the different kinds of losses you have sustained. In addition to more obvious losses such as your medical bills and lost income, there are intangible losses such as the pain caused by your injuries, the emotional anguish you suffered as a result, and your diminished quality of life. These losses are real, but they can be more difficult to prove in a claim. A lawyer can  help you prove these losses, so that you can recover full compensation for what you've been through.
How Can a Motorcycle Law Firm help Me?
If you're worried about the cost of hiring a motorcycle accident attorney, you shouldn't be. Our injury attorneys at Truitt Law Offices work on a contingency fee basis. We offer a free consultation to review your legal options. If we handle your case, we will only receive a legal fee if we secure money for you.
Our law firm will cover the upfront costs of your case, from the initial investigation of the incident to settlement negotiation to the trial, if necessary. Once your case has reached a resolution, your lawyer will be paid a percentage of the settlement or court award to cover the legal fee and case expenses.
Some of the tasks your lawyer will carry out include:
Investigating the accident
Gathering your medical records
Preserving proof of your lost income, medical bills, and other economic losses
Sending out requests for documents
Planning your legal strategy
Making sure key evidence is preserved
Handling all communications with insurance companies
Negotiating a settlement
Going to trial if settlement negotiations fail
Why Do I Need a Motorcycle Law Firm For My Accident?
Strictly speaking, you are not required to have a lawyer to file a motorcycle accident injury claim. However, it's a good idea to hire a lawyer to represent you if you have significant injuries. The costs of your medical bills, lost wages, and other expenses make it important to get as much for your claim as possible. You're likely to recover more money than you would if you handled your case on your own. An experienced lawyer may identify insurance policies that are available to provide compensation to you that are not obvious.
To have the best chance of winning your case, you'll need to gather evidence of fault and shape it into a narrative that demonstrates how the liable party was negligent. A lawyer has the knowledge, ability, and experience to see your case through to a successful conclusion.
Can I Handle an Accident Claim After a Motorcycle Accident?
You can bring a personal injury claim on your own, without the help of a lawyer. But you are likely to receive less compensation than if an experienced motorcycle accident lawyer handles your case.
Insurance companies have a vested financial interest in protecting their bottom line. The less money they pay out to settle claims, the bigger their profits. They are used to denying claims or making low ball offers to injured people who don't have legal representation.
Without an experienced personal injury lawyer standing up for your interests and being ready to take your case to court if necessary, the insurance companies are unlikely to give you the full compensation you need and deserve.
Contact Truitt Law Offices Today
If you've been injured in a motorcycle crash caused by another driver in Indiana and your future is at stake, turn to the experienced motorcycle accident attorney at Truitt Law Offices. You may need extensive medical care and could be out of work. But you don't have to face these challenges alone. Contact Truitt Law Offices today for a free initial consultation with an experienced Indiana motorcycle accident lawyer.