Indianapolis Workers' Comp Lawyer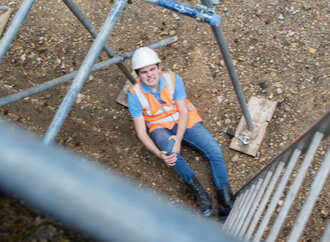 Accidents are part of life. Even with procedures in place to prevent those, accidents can and will happen. Although accidents can occur in the workplace, attention to safety measure and processes can help with accident prevention.
The attorneys at the Truitt Law Offices strongly feel there is no place for workplace accidents that are caused by negligence. It is the responsibility of the employers to provide a safe environment for their employees.
Employers are Responsible for Employee Safety
Any good workplace has preventative measures and procedures in place to prevent accidents. With proper training and safety equipment, most accidents are preventable.
When these procedures and equipment are not in place, then the employer needs to be held accountable for compensating any injured employee. We will help anyone injured in the workplace due to negligent actions on the part of their employer.
What Should Employer Insurance Policies Cover?
It is the responsibility of employers to be able to compensate any employee injured on the job. Employers need to have enough insurance coverage to pay for injured employees. All employers' insurance policies should cover the following:
Recovery from injuries
Pay for medical expenses
Compensate for lost wages as a result of the injury
Ongoing care/rehabilitation
Funeral costs and death benefits (when applicable)
Employee's legal costs
Why Is An Attorney Necessary for Workers' Comp Claims?
Injuries that occur on the job can be life-altering for the victims. It can be challenging to try to process everything after the accident.
You might be wondering how you are going to pay your bills. Your employer might not want to take responsibility for their negligence. Often, victims have anxiety about being out of work for any period.
Workplace injury victims are entitled to compensation for the costs associated with their accident. A top-flight attorney will be able to fight for your rights and help you through every step of your workers' comp claim.
Attorneys can help victims with:
Determining if they have the right to file a claim
Filing the claim
Negotiating with insurance companies and employers
Dealing with all communication during the process
Help victims make informed decisions about all their available options
Workers' Compensation Cases
We have experience handling a variety of workers' comp cases. Every workplace injury has a unique set of circumstances that lead to the accident. A great attorney will be able to sift through all the information, gather facts, and help you present a valid claim for compensation.
Business in the state of Indiana is required by law to carry workers' compensation insurance. Workers' comp insurance allows injured employees to recover financial restitution for their lost wages.
Injured employees who meet all the eligibility requirements for a workers' comp claim are entitled to recover all medical expenses and 2/3 of their regular salary.
For employees who suffer severe injuries on the job, the law allows them to seek additional compensation. Navigating a workers' comp claim can be very difficult because many employers try to find ways to deny these claims.
It is so important to have a qualified attorney on your side. We understand the process of these claims and know how to avoid many of the pitfalls that victims without attorneys often encounter.
We have seen countless victims lose their claim because they lacked professional representation.
What Types of Compensation Are Available in a Workers' Compensation Claim?
Workers' compensation claims typically cover:
Medical expenses to include rehabilitation services
Lost wages up to 2/3 of your salary
PPI (permanent partial impairment) states what percentage of permanent injury you sustained as a result of the accident
Do I Qualify for Workers' Compensation?
Anyone who was hurt on the job or became ill as a result of workplace conditions is typically eligible to file a claim. Your employer is required to carry the necessary insurance, and you will need a qualified attorney on your side to help you recover the compensation you deserve.
Is There a Workers' Compensation Statute of Limitations?
The state of Indiana has a two-year statute of limitations for workers' compensation claims. So employees have up to two years from the date of their injury to file their claim.
There are situations where the statute of limitations does not apply, which is why it is essential to get a qualified attorney on your side immediately following a workplace accident.
Have Employer Costs for Worker's Comp Increased?
The costs to employers for workers' compensation have increased over the past decade. The insurance premiums have steadily risen as more victims can file their claims. This increase in victims' rights has made employers look to try to disprove these claims as fraudulent.
Get an Indianapolis Workers' Compensation Attorney on Your Side
A good workers' comp lawyer can help you combat the employer's disputes to your claim and ultimately provide you with the tools to get the compensation you and your family needs.
Allow us to take some of the stress involved with filing a claim off your hands, so you can focus on recovering from your injuries. We understand that our clients are dealing with plenty of adversity and can feel overwhelmed by the process.
We are here to listen to your concerns and communicate with you throughout the whole claim process.
Contact Truitt Law Offices today for your Indianapolis workers' comp consultation and case evaluation.