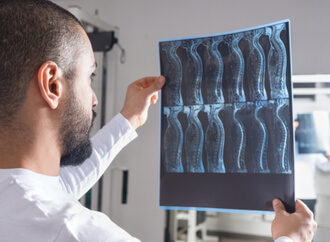 What Is Spinal Compression?
Spinal compression is caused when too much pressure is placed on the spinal cord.
What Causes Spinal Compression Injuries?
Spinal compression injuries usually occur in the two bottom vertebrae of the thoracic spine and the top vertebrae of the lumbar spine. Trauma to the spinal cord from a slip and fall, car accident, and sports related accident, or any event that causes stress to push the spinal cord beyond its normal range of flexibility can result in a spinal cord compression injury.
What Are the Symptoms of a Spinal Compression Injury?
The symptoms of spinal cord compression injuries range from severe pain in your legs and back, to numbness in the area surrounding the injury. Because spinal cord injuries cause damage to the nerve bundles protected by the vertebrae, the damage can extend beyond the immediate area and into corresponding areas of the body. Your doctor will be able to determine the severity of your injury with a physical examination and various diagnostic tests.
Can Spinal Compression Injuries Be Treated?
Most spinal cord compression injuries can be treated with decreased activity and spinal bracing. In some cases, surgery may be required. In any case, the necessity for decreased activity can negatively impact your ability to provide for your family. The medical bills associated with diagnosis and treatment, combined with the cost of prescription medications can quickly add up, leaving you and your family buried under a mountain of debt. An experienced spinal cord injury lawyer can help you get the settlement you deserve to protect your family, and allow yourself time to heal.
If you or a loved one live in the state of Indiana and have suffered a spinal compression injury at work, or through no fault of your own, please contact the Truitt Law Offices for an initial consultation.